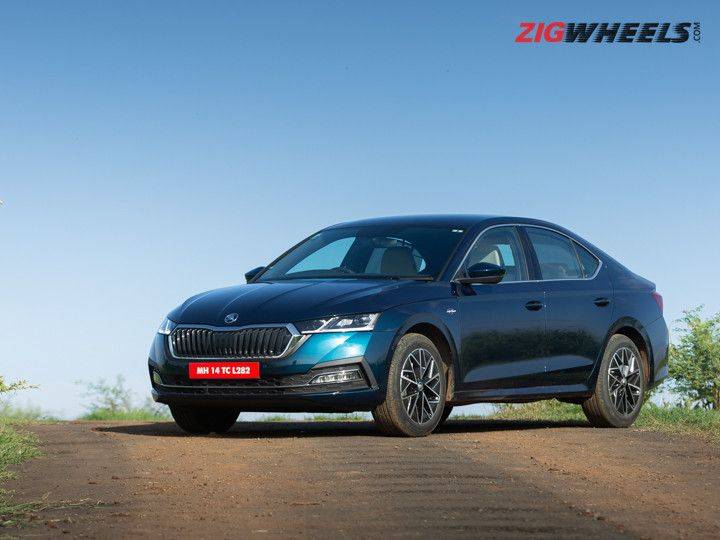 The lockdown ended for us with the arrival of something exciting from Skoda: the all-new 2021 Octavia Laurin & Klement Edition. It's not really new, though, since it was actually shown globally at the end of 2019, but considering all that has gone down since then, I think we can forgive Skoda for a slight delay. It's larger, feature-packed, and feels more luxurious on the inside, but for a premium. So has it got enough bang to turn heads away from the more popular SUV choices at this new price point?
All-New Yet Familiar

The fourth-generation Octavia is built on the revised VW Group's MQB platform. It's grown in every measurable way, except for the wheelbase that's just 8mm shorter than before. In fact, every panel on the car is new, as are the new adaptive bi-LED headlamps which are sharper and no longer split. The grill is wider with a chunkier chrome surround while the shoulder line has changed completely, but in the flesh, it looks unmistakably Octavia.
The accent lines on the bonet, the sloping roof, and the signature grill combine to give it a familiar fastback design. Familiar but still attractive. There is one angle, though, from which this new car looks different – the rear. Depth and curves of the boot aside, the new tail lamps stand out and not just for their design. They've been socially distanced since 2001, and now of all times, have grown closer to each other. 
Then we have the 17-inch alloy wheels that have divided opinions in our team but I for one love them. It comes with these extra blanked-out elements and a few polished linear elements that just seem to spark interest. A little more aero, maybe? They certainly do spark up a conversation. These units are available only on this L&K variant. The other variant, Style, comes with a more conventional silver design. 
Conservative Interiors

Things look a lot more German on the inside. The design language is rather crisp and clean, in lines and shapes of the dash, and everything is completely functional with no real pain points. If anything, it's a little plain, especially in the black and beige colour scheme. Maybe some faux wood trim could have brightened things up a bit. But as you spend time in the car, you notice a few flares here and there, like the way the door grab handles mimic the floating effect of the actual floating door levers. Or the little shiny, sparkly textured chrome elements on the air con vents, steering controls, and the new gear selector knob. There's even a customisable dual-tone ambient lighting that brightens up the cabin after dark. The proximity sensor interior lighting deserves special mention. It switches on at just a subtle wave of your finger as if by magic and even features adjustable intensity. Sweet! 
It features a lot of soft-touch materials too, with soft suede leather on the dash, the door pads, and on the insides of the seats as well. There are a few hard plastics on hard-wearing areas but, overall, the Octavia feels solidly put together. Going back to the front seats, they are both comfortable and supportive. On the L&K variant, they come with 12-way adjustment with memory for the front seats while in the Style variant, only the driver's seat is electric. And that's just about where the features list begins.
Laundry List Of Features 

The big floating infotainment screen is a 10-inch touchscreen with a gesture control function as well as a volume touch scroll bar that runs along the entire bottom length of the screen. It's also equipped with wireless Android Auto and Apple CarPlay. Completing the wireless theme is a wireless charger that can even hold large smartphones. While this sounds excellent on paper, the wireless charging couldn't quite keep up with the battery drain of wireless Android Auto on my Galaxy S9. 
Then there's the latest version of the Virtual Cockpit for the driver MID but since the navigation function wasn't working on our test car, we couldn't explore its full potential. Still, there's plenty of customisation and all the information a driver would ever need. Next on the list is the crisp 12-speaker Canton surround sound system that doesn't distort even a little at absurdly loud volumes. A delight for audiophiles! 
Some big features that haven't made the cut are the ventilated seats that really should have trickled down from the Superb. It doesn't get a sunroof either, which isn't essential but has become a de rigueur element at this price point, much like a 360-degree camera. Active safety features, including the auto brake, adaptive cruise control, and lane keep assist — present on cars such as the VW Tiguan Allspace, T-Roc, and also the international spec Octavia — have also received the axe. Still, there's plenty of practical touches in the package in the form of keyless entry on all four doors, hands-free boot open and close, and lots and lots of practical and well-thought out storage spaces. So you shouldn't feel short-changed. 
Practical and Comfortable 

The practical touch continues to the boot, which has grown from 590 to 600 litres. It also comes with plenty of nets and space separators to manage and secure your luggage space. There's also a 12V socket at the back and remote levers to drop the 60:40 split rear bench. 

The comfort and support of the front seats continues to the rear too. They are nicely contoured with good under thigh support, though, the aggressive contouring does push outer passengers towards the centre. So if you try to seat three abreast, this will push the outer passengers out of the sweet spot. Knee and foot room is more than adequate, so it's a comfortable space for two or just one chauffeur-driven passenger.
In terms of features, it gets air-con vents, roll-up sun blinds for the windows as well as the rear windscreen, two C-type USB charge ports, and a pocket for phones in the front seat back pockets. The centre armrest folds down at a convenient height but it has a set of fold-out cup holders that aren't too secure a place for beverages. 
More Power

We recently experienced the new 2.0-litre TSI petrol motor in the VW Tiguan Allspace. But unlike the Allspace, where it felt too eager to surge forward at just the touch of the throttle, this one is much more progressively tuned. So, in traffic, it's easier to manage throttle inputs. Combined with the light steering and brakes and the tight turning circle, the new Octavia is a pleasant city car. 
The 190 horses and 320Nm of torque also mean that when the roads open up or even get a little twisty, there's plenty of performance on tap to keep things exciting. Power delivery is smooth, linear and post 3,500rpm, the engine starts to become audible in the cabin. It's a little thrummy sounding but still pleasant. Handling is also great and the Octavia turns into corners sharply with very little understeer. It's stable through corners as well with a little body roll but that too is controlled and predictable. 
With a larger petrol engine and ever-increasing fuel prices, trips to the fuel station are going to cause you to wince. We haven't put it through our regular mileage test owing to time constraints but during a morning drive around town with little traffic, we managed to eke out 10kmpl on the dash and after some spirited driving, that figure quickly dropped down to 5-6kmpl. 
Delicious Ride

The one thing we've always liked about the Octavia is its balance of ride and comfort over all road conditions in the subcontinent. Thankfully, it's no different with the new platform. Bad roads, good roads, highway speed or in the city, the new chassis with the all independent suspension remains planted and most importantly, comfortable. Yes, some sound from bigger bumps does creep in from the wheel wells, along with some road noise from the tyres at highway speeds, but that's about it. It still gets a big thumbs up from us for ride quality. We have one tip, though, when it comes to the tyres. Currently, the Octavia gets Goodyear Assurance Triplemax 2s, which are hard wearing high milers. Switching to a softer and more performance-oriented tyre (if you can find a set in today's market) will improve ride quality as well as boost cornering grip. 
Price

Priced at Rs 25.99 lakh and Rs 28.99 lakh for the Style and L&K variant respectively, the Skoda Octavia has seen a considerable bump up in cost. It's left behind its only remaining rival, the Hyundai Elantra, in the segment that it existed in to stand alone as a sedan. But in and around this price point, you have several SUVs such as the Jeep Compass that are more popular. It's also just a few lakhs below the sticker price of its sibling, the Superb, which now seems like great value and we hear, it's also available at big dealer discounts. 
Verdict

It drives, rides, and feels better. It's also more mature with some additional features that make it both sensible and desirable. Basically, it's very much an Octavia!
The catch? Well, all the improvements are incremental. So, if you were expecting a revolutionary change, something that could steal your gaze away from similarly priced popular SUVs, this isn't that. What it is, though, is a classy, understated, and practical family sedan that offers a luxury car experience and driving excitement at a far more logical price.